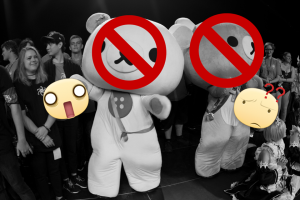 Earlier today, the Danish parliament voted into place the new masking ban, which – basically – bans masking your face, hence the name.
But no rule without an exception, which is also the case here: the face can be covered up, if it serves a "recognisable purpose," but what in the heck does that mean?
The concept is somewhat abstract, but in a nutshell, it means that if it makes sense to cover your face in the context of the situation you're currently in, then it's ok. Here are a few examples, to hopefully make it easier to understand:
Wearing a ski mask…
…outside on a cold winter's day is a recognisable purpose.
…a hot summer's day inside a 7-Eleven is not.
Wearing a motorhelmet…
…while driving a moped or a motorcycle is a recognisable purpose.
…while walking down Strøget is not.
So covering your face during the winter to keep it warm, or to protect it while driving a motorcycle, is completely legal, because it serves a specific purpose that would be accepted by the police. But where does that then leave you with cosplay?
Because Genki is a convention, where you're allowed to dress up, covering your face in order to complete a cosplay/fursuit is legal as long as you're on Genki's premises, as it then serves a recognisable purpose. On the way to or from Genki, it's recommended that you refrain from covering your face, as you'd risk being fined.
Please note, however, that the masking ban only applies to covering your face – it does not prevent you from wearing the rest of your cosplay, just the mask.