J-Popcon 2017STARTS TODAY and we'll be there with some unreleased info about our official Genki 2017 event(such as who some of our VIPs will be) as well as a blast from the past… GenkiMan!
---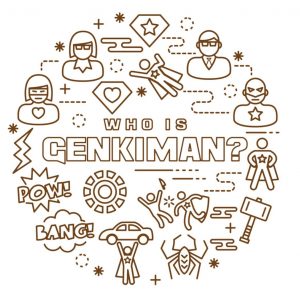 (Submissions accepted at the Genki Booth on the 2nd floor; small prizes for best submissions)
GenkiMan, who is he!?
In a world of loosely defined superheroes, GenkiMan stands as a pillar of pure obscurity. A hero for you as a cosplayer, convention visitor, artist, or whatever he does…
But the unknown era of our helt is about to be over! It's time to find out who this GenkiMan is, what he stands for and how he can best save the world.
Help us by writing a few words about GenkiMan, to get a clearer image of him, by doing any of the folowing:
Tell a GenkiMan story
Show us GenkiMan's Tinder profile
Let us know what he likes and what he despises
Write a synopsis to GenkiMan the Movie
Make a list of GenkiMan's rogue gallery
Draw GenkiMan in full action or on a lazy Sunday
Write a tabloid article about him
Leak his tax records
GenkiMan is for everyone, and everyone can be a part of shaping and creating this (hopefully) epic hero. So share your submissions with us at J-Popcon 2017, at the Genki booth on the 2nd floor of DGI-Byen.
We look forward to meeting you, so stop by and help us define GenkiMan and maybe ask a question or two about Genki.
GenkiMan AWAY!!